MotoGP
airbags, helmets, boots and other gear
Every form of motorsport comes with its own set of dangers, although few are quite as risky as motorcycle racing. Unlike in Formula 1 or IndyCar, riders in MotoGP are completely exposed on the race track, with no survival shell or halo to provide protection in the event of a crash.
Nowhere was this more evident than at the Austrian Grand Prix in August 2020, when a collision between Franco Morbidelli and Johann Zarco in the run up to Turn 3 saw the pair flung into the gravel at high speed. Meanwhile their bikes nearly took out Valentino Rossi and Maverick Vinales, who avoided serious injury by the narrowest of margins.
Given the risks, every aspect of a rider's attire has been designed to give them as much protection as possible. While there's no accounting for every single type of accident, the measures employed in MotoGP could be the difference between life and death.
Helmets
In 2019, the FIM (Federation Internationale de Motocyclisme) introduced new rules which meant riders' helmets had to be homologated to FIM standards. This was done in order to improve the levels of protection against brain injuries that could result from heavy impacts.
First, helmet manufacturers must make sure that their helmets conform to one of three internationally recognised standards: ECE in Europe, JIS in Japan and Snell in the USA. Only then can they apply for FIM approval.
The FIM's testing is more stringent, and includes an oblique impact test where helmets are dropped onto a 45° anvil at different speeds to measure absorption levels. The impact surface is covered with sandpaper to mimic the friction in asphalt, and the helmets house a silicone model of a human head to make the test as representative as possible.
The FIM requires that 10 helmets of every size a manufacturer makes are submitted for testing, with homologation given to each individual size. Once approved, helmets sport a QR code that links to a web page containing information about the make of helmet, and a separate sticker that confirms the FIM standard has been met.
The materials used to construct a helmet can vary, with some formed from a carbon fibre composite and others using a mix of fibreglass, Kevlar and resin. The latter method sees the materials pushed into a mould, after which the visor space is cut out using a laser. The maker of the helmet then signs the inside, and two more people are required to check the thickness and weight of the helmet shell.
The next layer is made from Styrofoam. Unlike the stuff you might find in a package with fragile contents, this is much more high-tech with different densities in the structure depending on which areas of the head need outright protection or absorption qualities.
Then there's the helmet inner: along with the cheek pads, this is removable so it can be washed, and riders can have them tailored for a snug, comfortable fit that accounts for their head shape.
Ventilation features are also built into each helmet to draw away sweat, and a fluid system lets riders drink while they're racing. Riders usually have three or four helmets with them during a race weekend, so there are plenty of spares if one sustains damage.
Visors
Race helmets wouldn't be complete without a visor, and like the outer shell these have to be extremely tough to protect riders from flying debris. If dirt builds up on the visor to the point that seeing the track becomes difficult, tear-off strips can be removed quickly during a race to get rid of any grime.
The visors are made from a material that doesn't crack or fracture, so high-speed projectiles don't pose a risk to a rider's vision. They can also be covered with an anti-fog coating that prevents condensation from building up in cold conditions.
Riders rarely use completely clear visors, with most opting for a tint that reduces glare. Some visors are rose tinted on the inside which allows riders to pick out features in the asphalt more easily, boosting their performance and reducing the chance of striking debris.
Special visors are deployed when it rains. These are double glazed to prevent fogging, and a rubber seal around the edge of the visor stops rainwater seeping into the helmet.
Luca Marini, Esponsorama Racing, Valentino Rossi, Petronas Yamaha SRT, Franco Morbidelli, Petronas Yamaha SRT, Francesco Bagnaia, Ducati Team
Photo by: Gold and Goose / Motorsport Images
Race suits/Leathers
Modern race suits are sophisticated pieces of equipment, and in MotoGP they are tailored to each rider in order to achieve the best fit for every individual. This is to maximise comfort in the aggressive position riders adopt on the bike.
The leather panels – often derived from kangaroo skin or cowhide – are stitched together by hand, with each suit taking many hours to complete. They tend to weigh several kilos, unlike the lightweight, fireproof overalls used in F1.
Leather was widely used in bike racing suits as long ago as the 1950s, although the complexity of the designs has increased dramatically since then. There are many reasons why leather became the material of choice, although its ability to resist abrasion is the main quality behind its continued use today.
Stretchy, accordion-like panelling in the knee, lower back and underarm areas gives riders crucial freedom of movement throughout, and allows the blood to circulate freely. There's an inner lining that can be washed and removed, and suits designed with ventilation in mind so that air flows in at the front and out the back, removing moisture and keeping riders cool in hot climates.
The hump at the back is one of the most prominent features of any motorcycle racing suit. Initially introduced to improve airflow and increase a bike's top speed, the hump has since been used to house drinking water, cooling ducts and electronics.
Elsewhere, some riders like to line the inside legs of their suits with a grippy, silicone material: this makes it easier to cling on to the body of the bike, and in turn can boost the amount of control they have over it.
In addition to all these features, the latest race suits have a number of additional safety devices woven in to keep drivers safe.
Airbag
The most complex of these is the airbag, which has been used in MotoGP for years but finally became mandatory in 2018. It is positioned around the back, shoulders and rib cage inside the suit, and is designed to absorb the forces endured by riders when they fall off their bikes.
Race suits are fitted with accelerometers, gyroscopes and a GPS, and the airbag is activated when sensors detect that a fall has occurred. The software is very clever and can tell the difference between a genuine incident and a near miss, so inflation doesn't occur at random.
Two gas canisters are secreted inside the suit, and when the system detects a fall the chambers of the airbag fully inflate in just 25 milliseconds; about a quarter of the time it takes to blink. They stay inflated for around five seconds, by which time a rider will usually have come to a stop.
Modern airbag systems are different to early models in that they act completely independently of the bike itself. Early versions of the technology featured a cord attached to the body of the bike, in much the same way as the emergency stop mechanism on a treadmill. When a rider fell, the cord would be pulled and the system activated.
Armour
Leather alone isn't enough to protect a rider's body in a crash, and so the most vulnerable areas are reinforced with armour designed to soak up blows and spread the force of impacts.
The elbows, shoulders, knees and hips get the most attention in this respect, but race suits have pockets inside in which to hold protective inserts. These need to be lightweight and flexible so they don't impede a rider's position on the bike or lead to discomfort.
Gloves of Marc Marquez, Repsol Honda Team
Photo by: Repsol Media
Gloves
Gloves are also made out of leather, and must overlap a rider's race suit by at least 50mm. A secure fastening system is a must too so they aren't ripped off if a rider is thrown across the asphalt.
Protective plating in the palm and wrist is common, and the knuckles are usually reinforced as well; an element that often provides some aerodynamic benefits. The little finger and ring finger in each glove are usually tethered to one another to limit the chance of injuring the former.
On the palm side of the glove, the leather used in the fingers tends to be thinner than in any other area: this is to avoid impairing a rider's feel for the brake levers, which in itself is a key safety consideration.
Knee and elbow sliders
Knee sliders started to appear in the 1970s as wider tyres forced riders into more aggressive cornering styles. The earliest attempts at fashioning this were as makeshift as you can imagine, with duct tape, wood and even pieces of visor strapped to riders' knees in an effort to bolster the level of protection in that area.
After years of development, manufacturers eventually settled on a plastic compound design that strikes the right balance between friction and wear, giving riders enough feel in corners but proving durable enough to last at least a race distance. Usage varies from rider to rider, with some sliders being used for days on end.
Knee sliders are incorporated into a rider's race suit, and are normally positioned towards the outside of the knee rather than directly on the front. However, riders can tailor the positioning of the slider to their needs depending on the conditions and speeds on track.
Around the turn of the century MotoGP began to see riders adopt an elbow-down racing style, with Jean-Philippe Ruggia and Max Biaggi among the first to do it. This meant elbow sliders had to be developed, and they're now a common sight on modern race suits. Different riders have different sized elbow sliders depending on their riding style, with some even incorporating metal plates for added durability.
The rules state that knee and elbow sliders mustn't create sparks or smoke, or leave debris on track. This prevents riders' vision being impaired while racing.
Polesitter Marc Marquez, Repsol Honda Team with Mick Doohan boots and gloves
Photo by: Gold and Goose / Motorsport Images
Boots
Modern racing boots have evolved over the years into one of the most thoroughly engineered pieces of safety gear that riders wear. These days they comprise an inner boot and outer shell: the former is surrounded by a type of exoskeleton, which gives added protection to the heel and ankle in particular. The two areas are joined together by a part that allows for some freedom of movement, but which prevents excessive flexing in the event of an accident. Foam is incorporated too to spread the force of any impact and reduce the chance of broken bones.
Meanwhile, the outer shell is typically finished in leather, with yet more panelling to guard the heel and ankle. A rider's race suit has to overlap the boot by at least 70mm, and the fastening method used should prevent the boot from coming off in a crash. The sole is perhaps the fastest-wearing part of the entire ensemble, as it needs to be thin enough to give riders perfect feel for the foot pegs while riding. On the inside of the outer shell, a thin reflective surface helps limit any transfer of heat caused by friction between the pegs and boots, reducing the risk of developing painful blisters.
Some riders like to include toe sliders into the outer shell, although this is really down to individual preference and riding style.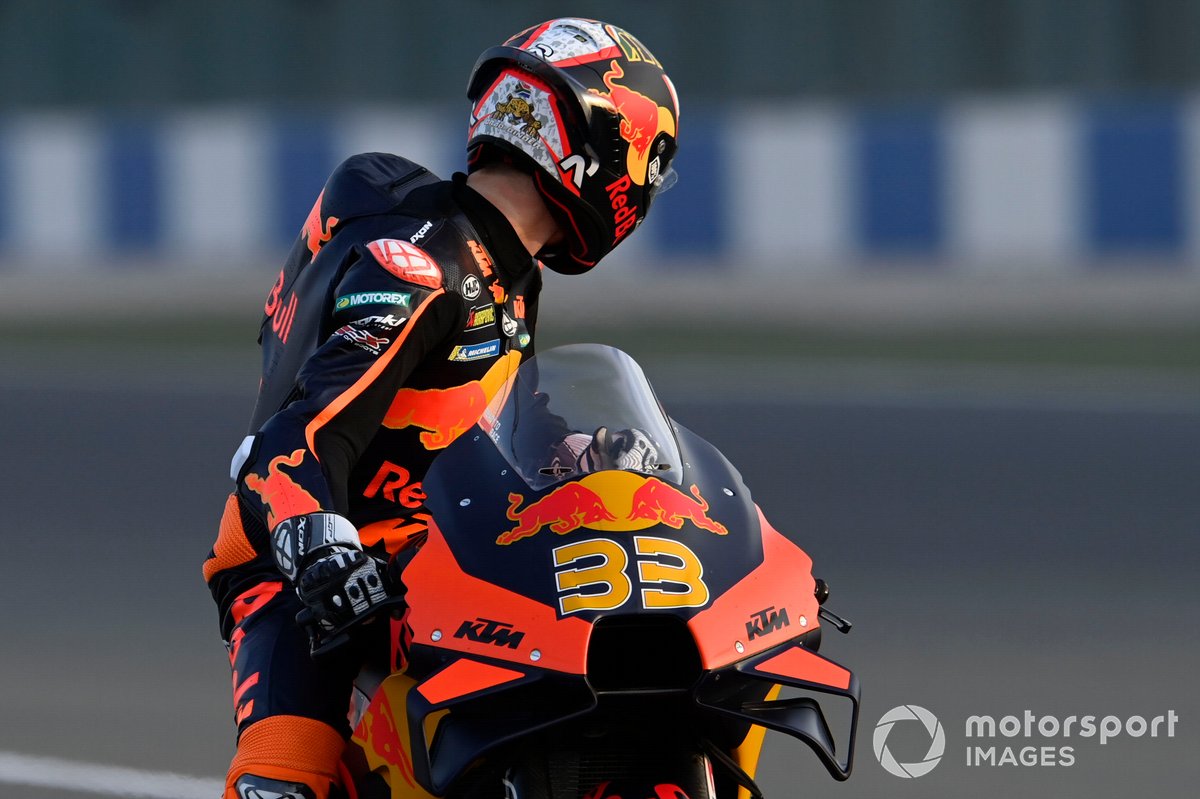 Brad Binder, Red Bull KTM Factory Racing
Photo by: Gold and Goose / Motorsport Images
Back protectors
The back protector was first used by Barry Sheene in 1979, created by Australian designer Marc Sadler and inspired by lobsters and armadillos.
Fast forward 40 years and modern back protectors have come on leaps and bounds. Ergonomically designed to fit the contours of a rider's back, an aluminium core usually adopts a honeycomb structure to absorb the force of impacts. A larger surface area will offer more protection, but the priority is to support the spine above all else.
Modern back protectors have moving panels that allow riders to move reasonably freely on their bikes. Ventilation prevents a build-up of moisture and keeps riders cool even in hot conditions.
The most advanced back protectors are sewn into an underlayer shirt that brings the airbag and electronics into a single garment that can be worn comfortably under a race suit. The less bulky the better, as a slimmer package allows for better aerodynamics and higher speeds.
Chest protectors
Chest protectors are mandatory in MotoGP, and must cover a surface area measuring at least 230cm². Single and divided chest protectors are allowed, and some are made from a high-tech foam that helps absorb impacts caused by debris or in a fall. They simply slip into the race suit and are barely noticeable when fully zipped up.
Some chest protectors are more akin to the rigid back protectors, with honeycomb structure providing more substantial impact protection. They're better ventilated too, although there's more transfer of vibration through the tank of the bike while racing.
RaceMotoGP