MotoGP
Remembering Valencia MotoGP 2013 – Lorenzo's 300km/h work of art
Jorge Lorenzo arrived at Valencia in 2013 as the outsider for that year's MotoGP world title. Ultimately coming up short against Marc Marquez, the way the Yamaha star rode that race was a work of art, Oriol Puigdemont remembers
The final round of the 2013 season at Valencia saw Marc Marquez crowned as the youngest ever MotoGP world champion, at the age of 20 years and 266 days.
As you would expect, such a momentous achievement filled the front and back pages in Spain, and the images will live long in the memory. However, it would be an absolute travesty if that day were not also remembered for an exhibition of control by Jorge Lorenzo that resulted in a famous win – the only result that could keep alive his slim hopes of denying Marquez.
Lorenzo may have ultimately lost out on the title to his compatriot but he did so in style, signing off the season with a savage demonstration of his talent whilst managing to never overstep the mark of sportsmanship, as he executed the only plan that could turn around a virtually impossible situation.
Marquez simply needed a top-four finish to guarantee the title regardless of what Lorenzo could manage. It was a more than feasible objective for the youngster from Cervera, especially considering the fact that only three other riders had managed a win from the 17 previous races that season. Out of those races, the number 93 had missed out on the podium at two of them: Mugello, where he crashed, and Australia, where he was disqualified from a controversial race when Honda miscounted the maximum laps he could complete before making a mandatory pitstop – implemented after Phillip Island's new surface was found to be destroying tyres.
Lorenzo was left with one final card to play: to win the final race at the slowest pace possible, and to try and put as many bikes as possible between his Yamaha M1 and the Honda RC213V of Marquez. Easier said than done, but the number 99 played his part perfectly. Even though it didn't come off, the attempt was a work of art played out at 300km/h.
It is a commonly accepted view that the current level of MotoGP is higher than it has ever been. The grid is a mixture of the best of various generations, which gives even more value to Lorenzo's effort that day in Valencia.
You need to have plenty up your sleeve if you want to try a game of cat and mouse with Dani Pedrosa, another rider who always flew at Valencia. The game plan was simple on paper but extremely difficult to execute on the track. Lorenzo knew he needed the win, so firstly he could not allow Pedrosa to snatch those vital few metres off the line that would have opened the door for an escape at the front. At the same time, he gave himself the impossible task of slowing up the race, backing up the peloton and allowing other riders to get involved in the battle, lapping a full second off his pace from practice.
It was an optimistic plan, especially given that three of the top five were on Hondas (Pedrosa, Marquez and Gresini's Alvaro Bautista), and Valentino Rossi, who spent the majority of the race in fifth place, was not exactly set on the idea of helping out his Yamaha team-mate.
Despite that, Lorenzo diligently stuck to the plan put together with Wilco Zeelenberg and Ramon Forcada, his rider coach and crew chief at the time, and kept it alive until the halfway stage. It was only then that he realised that the second group, made up of Cal Crutchlow and Bradley Smith (both Yamaha Tech3 riders at the time), were never going to be able to catch up. At that point, Lorenzo decided that his best hope was to focus on winning the race and hoping for the best, stepping up his pace and creating a gap at the front.
"First of all, we never thought we would get to Valencia and still have a chance, but Marc made a mistake in Australia where he was given the black flag and that meant we had a small possibility again," recalls Zeelenberg in a phone conversation with Autosport.
"Nobody wanted to interfere. He knew that nobody was going to risk their own race to help him win, and there were no pacts or anything like that. Nobody wanted to be the headline" Ramon Forcada
"Jorge had made two mistakes, at Assen and Sachsenring, and broke his collarbone both times."
Next to pick up the story is Forcada, who remembers how that day panned out in the Yamaha garage. The experienced Spanish technician recalls a perfect Sunday from his long-time rider, and puts the performance partly down to the lack of expectation.
"In that race Jorge was able to have fun," explains Forcada, who now works with Franco Morbidelli at Petronas SRT. "In his mind the title was gone, so he had nothing to lose. There was very little pressure on him so he was able to go out there and attack. The strategy was very clear, and he pulled it off perfectly, with the calmness of somebody who knows that what they are about to attempt is virtually impossible anyway."
Zeelenberg added: "He had to make sure the front group was compact but could not risk getting down to the final lap with a Honda on his tail, because those bikes were so strong under braking. The main thing I remember about that day is seeing how Jorge forced Marc into riding in a completely unnatural way for him. Normally he attacks everybody else but on that day he didn't. He was not comfortable at any point in that race."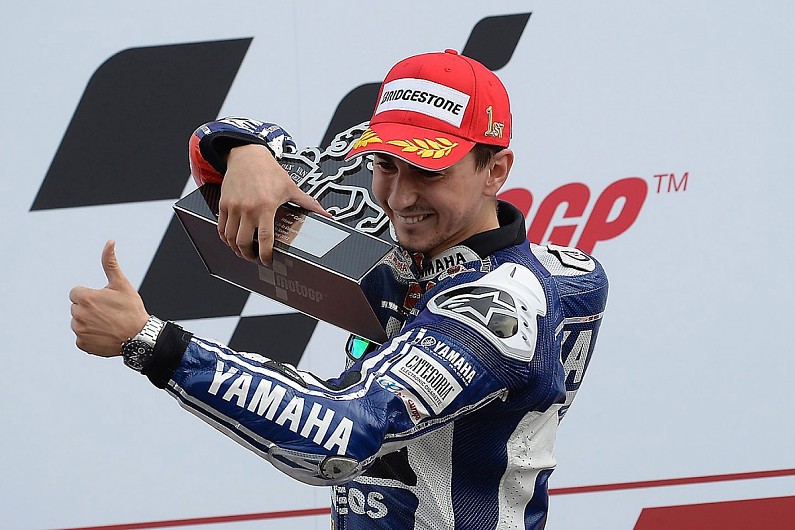 Nobody knows Lorenzo better than Forcada, who oversaw his debut in the premier class and was by his side for nine seasons (2008-2016), collecting three titles together (2010, 2012 and 2015) – which also happen to be the last three for Yamaha in MotoGP to date.
Unlike some other riders, 'Giorgio' was never one to look for support elsewhere on the grid, even in a situation like that, when it could have played in his favour. That was another fact Forcada was eager to make clear.
"The other thing I told him is that nobody else would be taking risks to help him. Nobody wanted to interfere. He knew that nobody was going to risk their own race to help him win, and there were no pacts or anything like that. Nobody wanted to be the headline."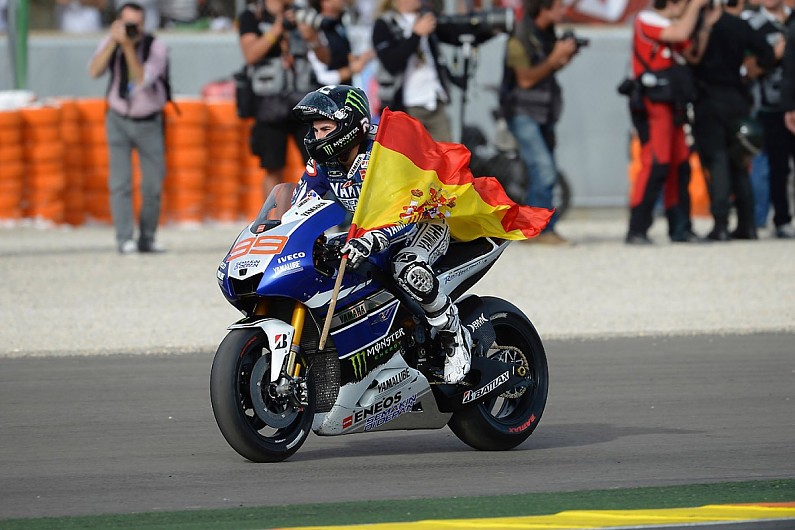 RaceMotoGP